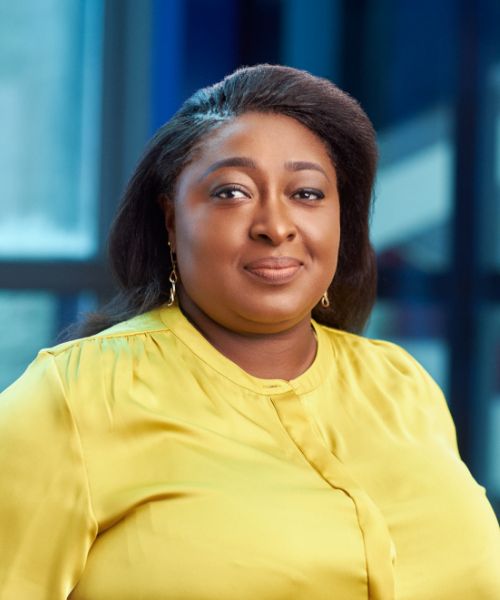 Nana Serwah Godson-Amamoo
Partner
Nana Serwah is a partner in the Firm's Natural Resources and Extractive Industries Practice Group. She has over 19 years of experience in energy and the extractive industries. She represents clients on natural resources, energy, mining and other extractive related matters and advises on all legal and strategic aspects of the energy and extractives business including acquisitions, deal structuring, negotiation support and implementation, project development, joint ventures and local content matters within these sectors.
Nana also heads the Firm's Government Business and Regulation Practice Group, where she consults on public sector organizational and policy reform assignments. She assists African governments with the development of industry legislation, capacity building and support for the improvement of systems and people.
PRACTICE AREAS
Oil and gas
Energy
Mining and Minerals
Government Business & Regulation
Corporate
THOUGHT LEADERSHIP, PUBLICATIONS & SPEAKING ENGAGEMENTS
Chapter Contribution to book on "Petroleum Resource Management in Africa: Lessons from 10 years of Oil and Gas Production in Ghana (2022).
Oil & Gas Law Review 2014 – 2022 (Ghana Chapter).
Chambers Global, Mining Law and Practice in Ghana (2017 – 2021).
Field Notes & Insights: Changes in the Local Content and Local participation regime in the upstream sector (2022).
Petroleum Commission training on Joint ventures in the Oil and Gas sector (2020).
Scottish Oil and Gas Trade Mission – Mission briefing (2018)
Powering Ghana Opportunities and Risks – Made in Africa (Issue 2) (2014).
EDUCATION/BAR MEMBERSHIP
Barrister-at-Law; LLB (University of Ghana, Legon)
Masters in Transnational Commercial Practice (Lazarski, Poland)
Member, International Bar Association, Ghana Bar Association and American Bar Association