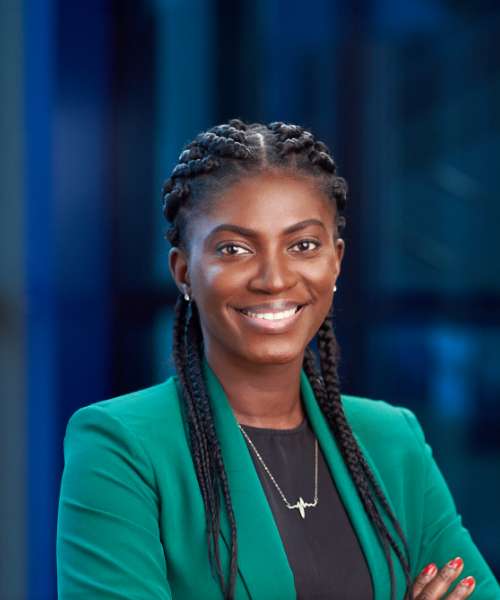 Akosua Kyeiwaa Akowuah
Associate Partner
Akosua Akowuah is an Associate Partner with the Corporate and Finance, Intellectual Property, Telecommunications & Technology Practice Group of the Ghana office of AB & David Africa. She has been involved in advising the firm's clients on corporate and financing transactions across sub-Saharan Africa. Significantly, Akosua was part of the AB & David team which advised Ecobank Ghana Limited (the lead arranger) on a GHS510,000,000 syndicated loan (from nine banks in Ghana) to Scancom PLC, the largest telecommunications service provider in Ghana. She has also advised on several loan and security transactions particularly for the development of major infrastructure projects in Ghana.
Akosua has advised the firm's clients on regulatory and compliance matters in the telecommunications sector, M&A transactions and corporate restructuring and general regulatory advice for local and international clients.
Akosua has advised many start-ups, SMEs, local and international businesses on IP rights and has assisted with protection of IPRs in Ghana and other parts of Africa.
Practice Areas
Corporate and Finance
Intellectual Property
Technology
Telecoms
Competition & Anti-Trust
Compliance
Data Protection
THOUGHT LEADERSHIP & SPEAKING ENGAGEMENTS
Over-collateralization In Loan Transactions, Business & Financial Times, February 2022 (Co-Author)
Is Africa Cross-border Lending Under Threat – ABD & David Outlook 2022
Taking Security in Loan Transactions in Ghana – ABD & David Outlook 2022
From Mind to Market–Start Ups Building Business on Ideas, B&FT, April, 2022
Training session with Clifford Chance for SMEs for Recycle Up (Facilitator) (2022)
Intellectual Property (IP) and Innovation: Boosting Business Competitiveness in the African Continental Free Trade Area (AfCFTA), WIPO & ECOWAS (Facilitator) (2022)
Understanding Corporate Governance, legal issues to consider – session for SMEs as part of Invest in Africa's Business Linkage Programme (Facilitator) (2019)
Judicial Corruption in Ghana – TRACE Blog Entry (November 2015)
Education/ Bar Membership
Qualifying Certificate (Ghana School of Law)
Barrister-at-Law; LL.B (Kwame Nkrumah University of Science and Technology)
Ghana Bar Association
Member, International Bar Association